Gun.io helps world-class engineering teams hire the world's most sought-after freelance engineers at a moment's notice. I worked on their Django/Vue web app and as a freelancer on the platform.
References
I've had the pleasure of working alongside Steve for a few years, and I found Steve to be one of the most thoughtful developers I've ever worked with - he's opinionated, diligent, and incredibly passionate about his craft. One of the mythical 10x!
Teja Yenamandra
Co-Founder & CEO at Gun.io
Steve was a key member of our engineering team at Gun.io and was a critical player in helping guide architectural decisions, our core engineering tenets, and code standards for the entire team. He's clearly a talented programmer, with the fluency across multiple languages and frameworks to bring instant value to a huge spectrum pf projects. But Steve also pairs his technical talent with a keen sense of business value, a knack for efficiency and innovation, and the ability to reliably work independently. Highly recommended.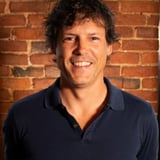 Grey Garner
VP of Product at Gun.io